Careers
Open Positions
SEO Content Editor
The primary focus of this role is editing written web content for search engine optimization, clarity, organization, grammar, and spelling. The SEO Content Editor will need to be able to optimize written content to increase conversion rates and ranking. They will need to be able to translate content written by MDs, PhDs, and other healthcare professionals into easily digestible articles, without compromising quality.
The SEO Content Editor will have experience utilizing ad placements and a call-to-action within the content. This position will also require occasional writing projects, research projects, updating older articles to maintain relevancy, and other marketing projects that arise. The vast majority of our work is digital, so someone with a background in graphic design and UX/UI is a plus.
Our goal is to find someone who meshes with our team and complements the department - this means a hard-working, talented, and helpful person who is just as willing to get in and do menial tasks as they are to lead an entire team to success. The SEO Content Editor will report to the Director of Content.
Qualifications:
BFA/BS in English, Journalism, Communications, Marketing or any other relevant degree or equivalent experience.
At least 5 years of professional editing and writing experience.
Experience evaluating and editing written content.
Excellent organizational skills.
Understanding of SEO best practices.
Specific responsibilities of this role include:
Writing copy for web content.
Managing editing projects from the first round of edits to publishing.
Quickly turning around writing and editing projects without compromising quality.
Writing blogs and news articles.
Researching medical journals and government websites for fact-checking.
Using Google Analytics to track content trends.
Translating complex topics into language the average reader can understand.
Finding and creating multimedia that helps convey our message.
Using basic design software to create visual aids for content.
Assisting with other content projects, including social media, video, and podcast.
Utilizing basic HTML skills.
Staying up to date on industry news.
Pitching content ideas.
Collaborating with development, sales, marketing, and design teams.
Programs and skills:
Google Docs
Google Analytics
Content management systems, including WordPress
Microsoft Office
Canva
Trello
Perks of the position:
Medical, dental, and vision insurance
Matching 401k
Competitive PTO policy
Downtown Orlando office with free parking
Equal Opportunity Statement:
Recovery Worldwide is committed to building an inclusive and equitable workplace for individuals of all backgrounds. We strive to build a workplace where employees feel comfortable bringing their authentic selves to work, every day. Qualified applicants will receive consideration for employment without regard to race, color, ethnicity, religion, sex, sexual orientation, gender perception or identity, national origin, age, marital status, pregnancy or parental status, protected veteran status, disability status, or any other characteristic prohibited by law. Additionally, we're committed to providing access, equal opportunity, and reasonable accommodation to individuals with disabilities in employment. If reasonable accommodation is needed to participate in the job application or interview process, to perform essential job functions, and/or to receive other benefits and privileges of employment, please notify Human Resources.
How to apply:
If you are qualified for this position, we look forward to hearing from you. Please submit a resume and portfolio that shows your experience as it has prepared you for this role. If we are interested in learning more, we will contact you to set up an interview.
A Happy Environment
We value talent and hard work at Recovery Worldwide almost as much as we value the people that provide them. We strive to foster an environment that encourages people to lead fulfilling lives, in and out of the office. We know our Ping-Pong table, fully stocked kitchen, quirky decor, and awesome downtown views don't hurt — but what really matters to us is that the people who work here feel comfortable and appreciated.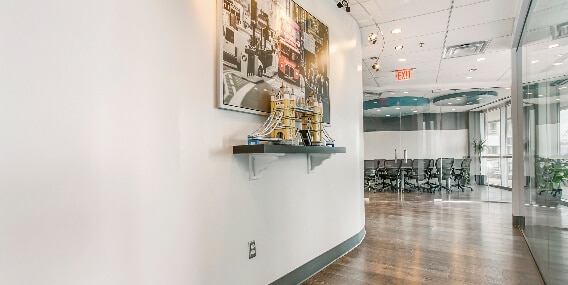 We Hire The Best
As is the nature of most creative companies, we provide flexible scheduling and a casual work environment. Sometimes that means half days and sometimes that means late nights at the office. What matters most is the heart of our employees and their dedication to our mutual success. We only bring on teammates whose work ethic warrants self-management instead of micro-management. We're picky about the people we hire, because our team's unity is critically important. We hire people, not skills.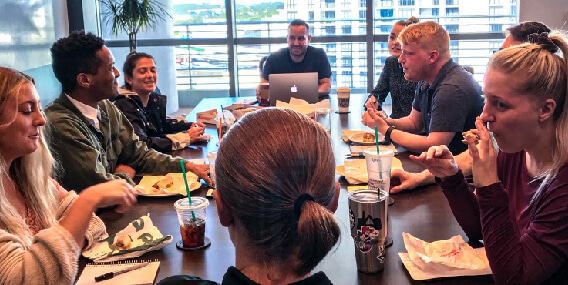 Our Amazing Location
We're on the 14th floor in the north tower of the Plaza building. We have a movie theatre in our building, multiple restaurants and views that take your breath away. We think it's important to be a part of the local culture, and we thrive on the energy of this creative, tech-friendly city. Being right downtown means easy access to team lunch outings, swan races around Lake Eola, quick strolls to the Dr. Phillips Center and research trips to the library.