Careers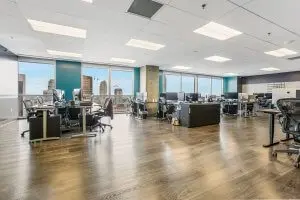 Open Positions
Web Analytics Strategist
Recovery Worldwide LLC is a digital marketing firm based in Downtown Orlando. We specialize in organic search engine optimization, web conversion and analytics. We've established a reputation for producing authority websites through in-house development and design, original and unique content, and creative marketing tactics. We are seeking an experienced and driven Web Analytics Strategist to join our team.
This is a full-time, in-office position located in Orlando, FL
Job Description:
The primary focus of this role will be to analyze, interpret, and monitor the content across all of our digital properties, as well as to identify and implement ways to improve performance. The ideal candidate would understand not only how to optimize pages organically in search engines but also how to mold content in a manner that is both impactful and informative for the reader and effective in achieving conversions. This role is not dedicated to creating new content, but rather analyzing and improving existing content and developing strategies for the creation of future content.
Specific requirements for this role:
Provide recommendations and execute strategies for improving content to optimize the websites, maximizing user engagement, and increasing conversion
Monitor, analyze, and interpret site traffic for both overall trends and page-specific performance
Plan out future content creation initiatives
Work closely with all forms of content, including written, audio & video
Assist with social media endeavors, including monitoring, analyzing, and suggesting
Create, develop, and maintain processes for the continuous monitoring, analysis, and improvement of content
Create and provide reports based on analytics and tools
Communicate effectively and continuously to team and management on initiatives and goals
Work closely with other team members to make sure goals are achieved, deadlines are met, and performance is improved
Specific requirements of this role include:
Proven background in SEO and content analysis
Strong ability to identify and resolve problems creatively
Experience working with building and administering content within a content management system
Experience planning and mapping out future content
High degree of self-motivation, drive, and autonomy
Excellent organizational and time management skills
In-depth understanding of best practices for SEO and content
Ability to produce accurate analysis and effective suggestions in a timely fashion
BS/BA or higher preferred
Benefits:
Health Insurance – 100% Company Paid
Additional options for dental, vision, and life insurance
401(k) plan with 100% match on 3% of pay
Downtown Orlando office with free parking
Competitive PTO policy
Company outings
Equal Opportunity Statement:
Recovery Worldwide is committed to building an inclusive and equitable workplace for individuals of all backgrounds. We strive to build a workplace where employees feel comfortable bringing their authentic selves to work, every day. Qualified applicants will receive consideration for employment without regard to race, color, ethnicity, religion, sex, sexual orientation, gender perception or identity, national origin, age, marital status, pregnancy or parental status, protected veteran status, disability status, or any other characteristic prohibited by law. Additionally, we're committed to providing access, equal opportunity, and reasonable accommodation to individuals with disabilities in employment. If reasonable accommodation is needed to participate in the job application or interview process, to perform essential job functions, and/or to receive other benefits and privileges of employment, please notify Human Resources.
How to apply:
If you are qualified for this position, we look forward to hearing from you. Please submit a resume that shows your experience as it has prepared you for this role. If we are interested in learning more, we will contact you to set up an interview.
Job Type: Full-time, on-site
A Happy Environment
We value talent and hard work at Recovery Worldwide almost as much as we value the people that provide them. We strive to foster an environment that encourages people to lead fulfilling lives, in and out of the office. We know our Ping-Pong table, fully stocked kitchen, quirky decor, and awesome downtown views don't hurt — but what really matters to us is that the people who work here feel comfortable and appreciated.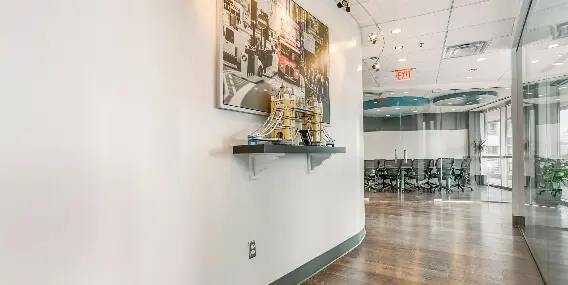 We Hire The Best
As is the nature of most creative companies, we provide flexible scheduling and a casual work environment. Sometimes that means half days and sometimes that means late nights at the office. What matters most is the heart of our employees and their dedication to our mutual success. We only bring on teammates whose work ethic warrants self-management instead of micro-management. We're picky about the people we hire, because our team's unity is critically important. We hire people, not skills.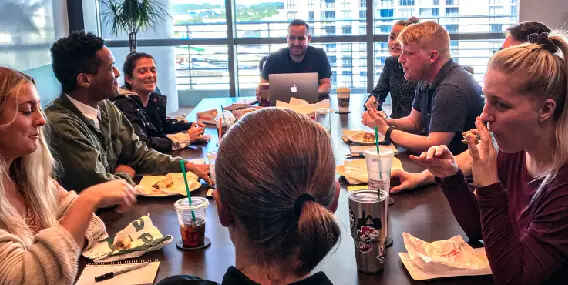 Our Amazing Location
We're on the 14th floor in the north tower of the Plaza building. We have a movie theatre in our building, multiple restaurants and views that take your breath away. We think it's important to be a part of the local culture, and we thrive on the energy of this creative, tech-friendly city. Being right downtown means easy access to team lunch outings, swan races around Lake Eola, quick strolls to the Dr. Phillips Center and research trips to the library.